Reproductive and Sexual Health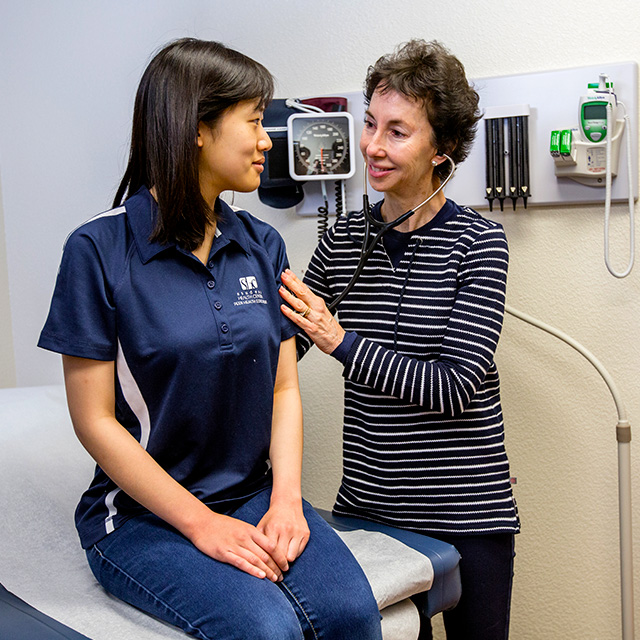 The Student Health Center provides consultation, evaluation, treatment, and educational resources to promote Reproductive and Sexual Health. The SHC welcomes all students and strives to be an inviting place to receive care. We deliver care related to sexual health with the utmost respect, confidentiality and compassion.
Contraception counseling, prescription and management
Diagnosis and treatment of sexually transmitted infections
HIV Testing
Breast health exams
Pap smears and routine pelvic exams
Pregnancy testing and referrals
Abnormal pap treatment and referrals
Colposcopy exams
Addressing concerns with genitalia, urologic conditions, sexual function, sexuality and gender identity
Counseling services
Sexual assault resources and care
Health promotion and education
Condoms and dental dams
HPV Vaccination, Hepatitis A and B Vaccination
The SHC also offers free STI screening, for Gonorrhea, Chlamydia, Syphilis and HIV, on Thursday morning between 8am and 10am. This offer begins the second week of school and continues to the last Thursday of the semester before finals. You must schedule an appointment to take advantage of this free service! You may only participate once a semester. Appointment slots for free testing will open at 9am on the Wednesday before testing. Simply call (775) 784-6598 to schedule your appointment. If appointment slots are available on the day of testing walk-ins will be accepted.
Please Review the following information prior to your visit.
Exposure and testing:
For Gonorrhea and Chlamydia, the most reliable test result will be 2 weeks after exposure.
For HIV, the most reliable test result can be from 6 weeks - 3 months after exposure.
Follow up testing for Gonorrhea and Chlamydia should be done no sooner than 3 months following your treatment.
Depending on your risk, you may need a more comprehensive screening. Review risk and recommendations here.
Schedule an appointment with any provider for a more comprehensive STI screening.
Preparing for your appointment:
Gonorrhea and Chlamydia tests require a urine sample; do not urinate within 1 hour of your visit.
The HIV and Syphilis test will require a blood draw, please hydrate before your appointment.
Please check in at a computer in our waiting room 15 minutes before your scheduled appointment.