Office of the Dean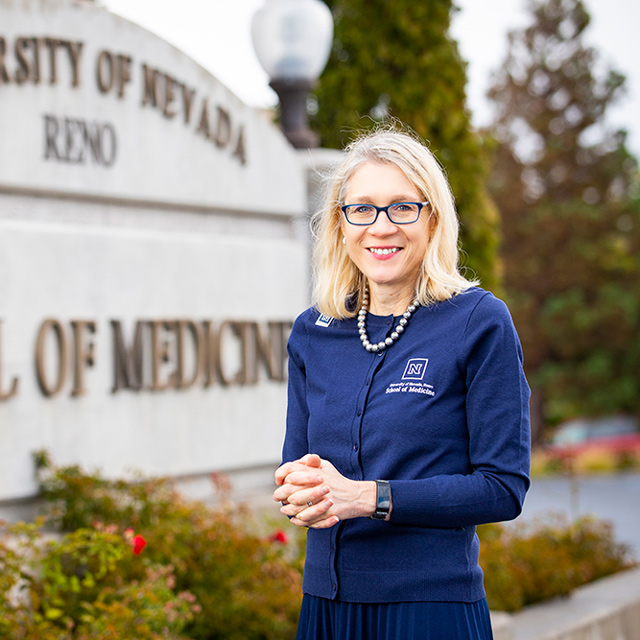 Melissa Piasecki, M.D.
Acting Dean, School of Medicine
University of Nevada, Reno
Professor of Psychiatry
I am pleased to begin my role as Acting Dean of UNR Med with a brief introduction. I have been at UNR Med since 1995, starting as an assistant professor teaching psychiatry and behavioral sciences. Over the years, I have served in various teaching and leadership roles, most recently as the Executive Associate Dean under Dr. Tom Schwenk.
During my 26 years as part of this school, I have developed a deep appreciation for what makes our medical school community special – our commitment to our learners, our missions and our community. Never before have these qualities mattered so much as we continue to adapt to our changing environment.
On August 31, we said goodbye to Dr. Schwenk, and thanked him for ten years of extraordinary leadership. During his tenure as Dean, Dr. Schwenk reshaped the School of Medicine. We are highly engaged with our communities and are entering into a transformational integration with Renown Health. In my new role, I will continue to build our community ties and the Renown integration. I look forward to our school's next cycle of strategic planning and to developing and recruiting new leaders to UNR Med. I also look forward to the search for a new Dean for UNR Med, which is already underway.
Please let me know how you are doing and what questions you have. I look forward to hearing from you and working together to achieve our vision of A Healthy Nevada.
Melissa Piasecki , M.D.