Pacific AIDS Education and Training Center-NEVADA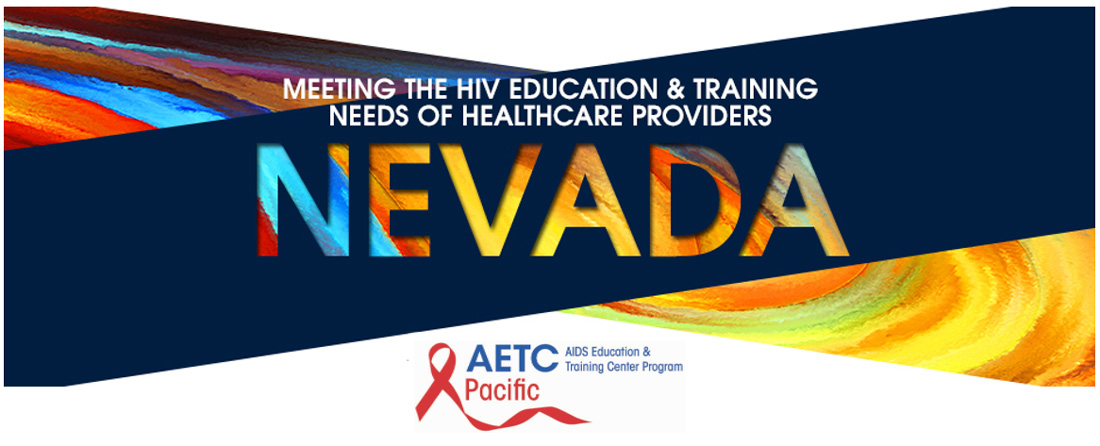 The Pacific AIDS Education and Training Center (PAETC) is a federally-funded program under the Health Resources and Services Administration's (HRSA) HIV/AIDS Bureau through Part F of the Ryan White Program. PAETC is a member of the National AIDS Education and Training Center network, and based at UCSF in San Francisco. PAETC is one of eight regional and two national centers, which cover all 50 states and the US Territories and Jurisdictions. The Pacific AETC regional network includes Arizona, California, Hawaii, and Nevada. PAETC conducts an ongoing series of educational programs facilitated by expert faculty in a variety of formats, including seminars, clinical trainings, and annual conferences. The mission of PAETC is to:
Provide healthcare professionals with the knowledge and skills necessary to care for HIV-infected patients in underserved and vulnerable populations
Increase the numbers of trained health care professionals working with HIV-infected patients
To respond to the needs of high-risk populations and the changing face of the HIV epidemic.
The Pacific AIDS Education and Training Center-Nevada (PAETC-NV), based at the University of Nevada, Reno School of Medicine, has been supporting clinician education in HIV, Hepatitis C, and STI care since 1990, and has trained thousands of providers over the last 30 years. The PAETC-NV serves the educational needs of Nevada's healthcare providers and organizations who provide care and prevention services in the areas of HIV, Hepatitis C, STIs, and related content. PAETC-NV also provides technical assistance and capacity building to clinics and healthcare facilities in Nevada to support the development and provision of HIV and STI screening, treatment, and prevention services, and to develop and enhance healthcare services in the community.
Our programs serve physicians, nurses, physician assistants, nurse practitioners, pharmacists, dentists, social workers, and other health professionals.
Program Faculty
Jennifer Bennett, PhD, MPH, Principal Investigator and Director
Mary Karls, MPH, Program Manager
Victoria Young, MPH, Statewide Capacity Building Manager
Rosanne Sugay, MD, Medical Director
Jacqueline Huynh, MD, Teaching Faculty
Christina Madison, PharmD, Teaching Faculty
Rob Phoenix, APRN, Teaching Faculty
Steven Zell, MD, AAHIVS, Senior Educator
Accomplishments
The PAETC-NV has been providing education and support to HIV providers in Nevada since 1990. The PAETC-NV features an annual HIV conference, the Autumn Update, now in its 21st year. This conference provides an annual update for HIV specialists and primary care providers in the region and features experts in all facets of HIV, STI, and Hepatitis C care. In addition to the Autumn Update conference, PAETC-NV offers a wide range of programs designed for either broad audiences or tailored to specific clinic needs. A clinical preceptorship to enhance clinician skill in the treatment and biomedical prevention of HIV is now in development in Las Vegas, with plans to implement in mid-2021.
The PAETC-NV has also been leading the Ending the HIV Epidemic (EHE) Initiative across the state of Nevada. PAETC-NV and UNR's Center for Program Evaluation, along with the help of the statewide EHE Workgroup, state and local health districts, community-based organizations, and people impacted by HIV, have produced the Clark County's Ending the HIV Epidemic Plan (published in September, 2020) and the State of Nevada's Ending the HIV Epidemic Plan (published in December, 2020). Both EHE Plans and the EHE Workgroup meeting agenda and notes can be found at endhivnevada.org.
Over the years, the PAETC-NV has worked with over 60 organizations in the state, ranging from private practice clinicians to large hospital groups and public health agencies, assisting them in providing the best quality of care for their patients and reducing the burden of HIV disease in Nevada.
State and National Resources